SEARCH
Select a specialty or treatment, then search by location and date

BROWSE
View and narrow your results, to show for example hospitals or dentists that take HMO payments.

BOOK
Click on an appointment time that's convenient. We'll verify and confirm it via SMS & email. That's it: you are booked in!

At Likita we aim to provide a one stop shop for every medical need from basic checkups to consultations and lab tests.  Our unique platform gives you the power to find, compare and book services from hundreds of accredited service providers across Nigeria.
Are you a Medical Provider?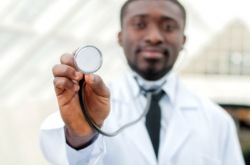 Likita is Nigeria's premier find-a-medical-professional website.
Sign up to find out how we can connect thousands of new patients to your practice.
INCREASE YOUR REVENUES
Get discovered by thousands of new patients
Get the patients looking for your services – our platform enables you to attract the patients you need to the services you want to offer
MANAGE YOUR SCHEDULE
Fill in last minute cancellations
Manage shifting schedules (doctors/resources) in real time through your admin panel
Take in bookings even after office hours
Engage in long term scheduling (weekly, monthly /quarterly)
IMPROVE YOUR ONLINE VISIBILITY
List your hospital and its services online
Gain independent customer feedback and enhance your reputation